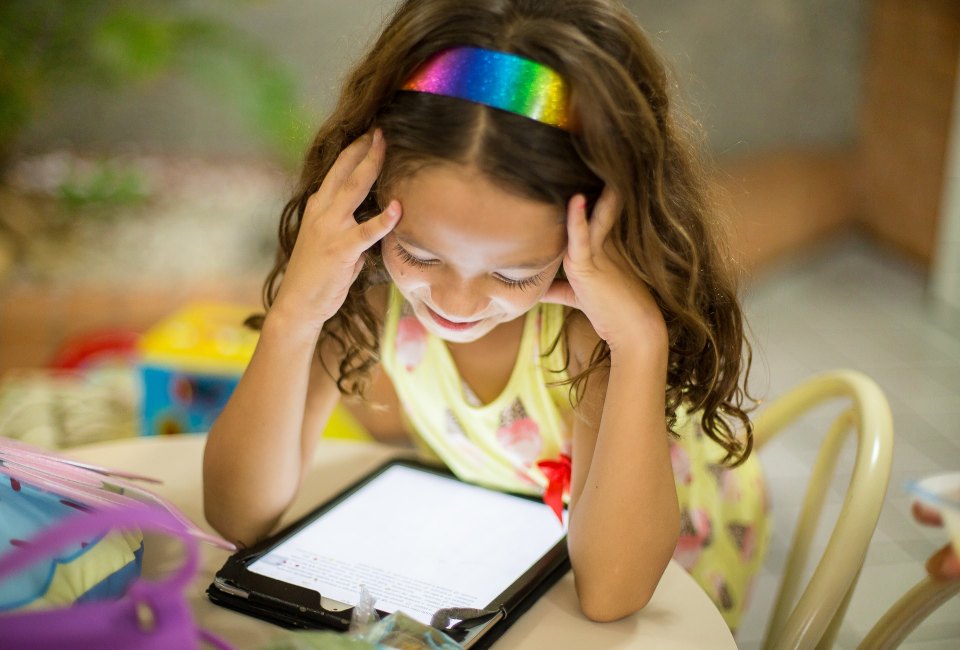 Adapting to our new homeschool way of life requires flexibility, perseverance, and patience, but a great big list of reading, spelling, and writing apps is helpful, too! With children facing at-home learning for the foreseeable future and parents eager to keep them on track academically, we'll need some creative teaching tools to get us through. So, we've collected 19 reading, spelling, and writing apps to lend a hand in your kitchen table classroom.
If you need more help with the 123s than the ABCs, we've also culled the internet for the best math apps for kids. And, when you're feeling truly overwhelmed, be sure to check out our Realistic Guide to Homeschooling for Busy Parents.
Reading, Spelling, and Writing Apps for Early Childhood Ages
1. Endless Alphabet
$8.99
Endless Alphabet teaches kids the alphabet using colorful animations, word games, 3D touch, and very little pressure. Children can learn at their own pace.
2. Starfall
FREE
This is an excellent app for pre-readers who are learning to recognize letters and letter sounds. Books are read aloud, and music and poetry are used to familiarize children with letters and phonics. Kids can read books from a variety of genres, including fiction, non-fiction, fairy tales, and Greek myths.
3. Bob Books Reading Magic #1 and #2
$2.99
Based on the best-selling books, the Bob Books apps introduce children to simple books they can manage. Interactive games teach children to sound out words, phonics skills, and word building.
4. Skybrary
$4.99/month or $39.99/annually
Digital books and videos (some hosted by LeVar Burton himself) help your young children explore the world. Children pilot a hot air balloon to seven different themed islands, each housing a diverse array of content to choose from. You can sign up for a FREE one-month trial before committing to a subscription.
5. Writing Wizard
$4.99
Kids practice writing by tracing letters on a phone or tablet screen. There are colored pencils to write with, and animation rewards good work. The app is available in seven languages.
6. Ollie's Handwriting
FREE
Ollie is a cute, animated owl who leads your kids through handwriting and phonics. Children write with chalk on a pseudo-blackboard.
7. Hooked on Phonics
$7.99/month
A trusted name for decades, Hooked on Phonics is an early reading program with videos, interactive games, and illustrated stories. The app also includes 100+ e-books for children to read.
8. Endless Reader
FREE
A follow up to the Endless Alphabet app mentioned above, Endless Reader is for children who can recognize letters and sounds and are moving toward reading books more independently. The program introduces sight words, spelling, and uses illustrations to represent words.
Reading, Spelling, and Writing Apps for Elementary-Age Kids
9. Intro to Cursive
FREE
While schools have put cursive on the back burner, it is still a valuable skill to learn. Into to Cursive helps children create the shapes of cursive letters and eventually learn to connect them, forming words.
10. Book Creator for iPad
$6.99
Your children can write a book and add pictures in Book Creator. The app makes it easy to create comic strips, photo books, storybooks, and more.
11. iTooch 5th Grade Language Arts
$8.49
First of all, iTooch is available for many grades and in both English and French. Children practice skills such as parts of speech, word completion, and more. The app is well-organized and rewards children for progressing.
12. Reading Prep Comprehension
FREE
While this app lacks a cool, funky name, it does hone a necessary skill for reading success. You'll receive a new FREE story weekly. Each piece—both fiction and non-fiction picks—are followed with comprehension questions. Areas in which answers are located are highlighted. Audio is available for story reading, too.
13. Reading Comprehension Grades 2-3
$1.99
This app offers reading passages with beautiful pictures for children to devour. Upon completion, kids are asked a series of questions to evaluate their understanding of the material. Animal lovers will appreciate the subject matter, as all the books are about animals. The app is well-organized and colorful.
14. Epic
$7.99/month
Epic has stacks and stacks of e-books, including many traditional titles, for children to read. The high-quality material covers a variety of topics and can be accessed on a phone, tablet, or computer. Check with your school as teachers may be able to sign up for a FREE classroom subscription and invite their students.
RELATED: The Realistic Guide to Homeschooling for Busy Parents

Reading, Spelling, and Writing Apps for Middle and High Schoolers
15. Quizlet
$.99/month
Quizlet is a useful flashcard app offering students the opportunity to practice, memorize, and challenge themselves. Kids can review vocabulary words, spelling, or create personalized flashcards.
16. SpellingCity
FREE
There are limited features available in the free version, but a premium membership is available, and it is worth the cost. Teachers can create a spelling list, which the app tests children on (using a typing and an audio feature). Spelling City also allows kids to use the word in a sentence, evaluate the phonics of the word, and find words with similar meanings.
17. Khan Academy
FREE
Khan Academy has steadily gained traction as a teaching tool in all academic subjects. Its lessons are very comprehensive and thorough. Grammar, storytelling, and SAT prep are all available through Khan. Parents are offered a dashboard to keep track of student progress
18. EasyBib
FREE
Do you have a student who is writing a paper and wants to make sure sources are correctly cited? EasyBib shows them how. Students can also insert their material to check for grammatical errors and potential plagiarism issues.
19. SimpleMind
FREE
If your child needs help organizing their writing, SimpleMind's app assists students in 'mind-mapping' and organizing their thoughts before pen meets paper. Subscribe for additional features.
If you're ready for some entertainment after homeschooling we have just the thing to keep kids happy & moving.
Virtual character visits & telegrams on your lawn plus $50 off prebooks on live performances which can be used up to a year. (Expires May 30th, 2020)
Visit KidsPartyCharacters.com or call us directly at 917-687-5745 for more details.
Bringing Childrens Imagination to Life